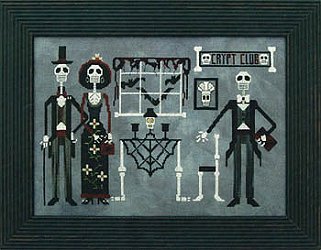 Prairie Moon's Crypt Club Pattern
In a world where we tend to focus on imperfections and ways we don't measure up it is a welcome relief to like something about yourself. Personally, I love that I tend to dive head first into crazy crafting plans without regard for my actual abilities or skill level.
I just assume where there is a will eventually there will be skill. It is how I learned knitting, beading, sewing and every other crafty endeavor I have taken on. It is also how I ended up with a lovely counted cross stitch pattern to be stitched on teeny tiny Belfast linen fabric.
To date my counted cross stitch patterns have been stitched on aida cloth that blind grannies can see without their bifocals. I like the simplicity. So when I ordered the fabric for Prairie Moon's, Crypt Club pattern it never occurred to me that it wouldn't be on giant 18 count aida cloth. I didn't even ask - that is how clueless I am.
So now I find myself with a pattern I adore and fabric that scares the bejesus out of me. There will be tears of frustration, curses that make my hubby's toes curl and fits of anger. But I am hoping there will also be screams of joy, a sense of accomplishment and ultimately tears of joy. I won't know if I don't try. Once again I'm diving knowing I am in above my head before I even hit the water. Is it crazy that makes me happy?